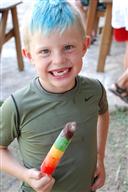 My sweet youngest with a Rainbow Freeze
My name is Elizabeth Bailey and I love being the ice cream lady! When you book the truck, you are booking ME.

I am also a wife and
a mother of three.
My life is full of housework, homework, baseball, 2 dogs, and, of course, my business!